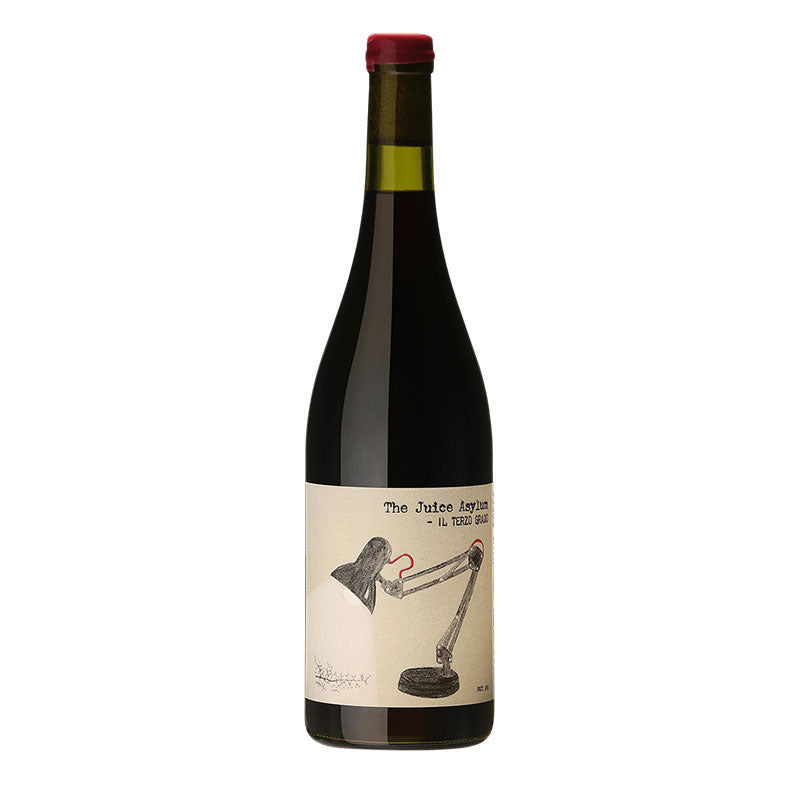 The Juice Asylum Terzo Grado 2020
Description
This wine is all about the juice. Highly quaffable red wine, light and fruity (chunky cherry and blackcurrant). Enjoy on its own or with food. Made by famed Tuscan winemaker using biodynamic and organic grapes, with minimal intervention, bottled without added sulphites.
Wine Details
Wine Style: Light & Juicy Red

Special Features: Organic, Biodynamic, No Added Sulphites

Grape: Sangiovese, Merlot, Trebbiano, Malvasia

Alcohol: 14%

Vintage: 2020

Volume: 75cl
Delivery
Shipping to Great Britain mainland only
Free Shipping – for orders totalling £150 and over
£10 delivery charge – for orders under £150
The Juice Asylum Terzo Grado 2020
Occasion
Easy drinking wine. For chilling out, on its own or with aperitifs. Works for relaxed dinners, roasts (Thanksgiving), using up left-overs (Boxing Day) and BBQ's due to the range of food pairing options. Pairs well with aperitifs, pizza, charcuterie, chicken & turkey, pork & ham, fish, Asian and Italian dishes. Works with lots of vegetable dishes, pulses & lentils.
A fun, fruity wine made in a light juicy style. Refreshing chunky cherry, blackcurrant, and blueberry. Biodynamic Sangiovese grapes dominate the blend. Made with minimal intervention, wild yeasts, and no sulphur additions. This is a funky wine.
Producer Profile
The Juice Asylum
The Juice Asylum is a side -project, started in 2016, of famed Tuscan producer Alessio Guidi at Avignonesi Winery. Being a fanatic on all things quirky, interesting and above all terroir driven, he embraces the idea of allowing wine to have an experimental playground where the natural element is encouraged rather than denied and put into a 'facility' (an Asylum, if you will) for correction. Since so much time is spent on the selection of the grapes (sourced from biodynamic or organic vineyards in Tuscany) the brief is to use minimal intervention, co-fermentation and different styles of ageing to allow the wine to speak of where it is from rather than be 'made'.
More From The Juice Asylum