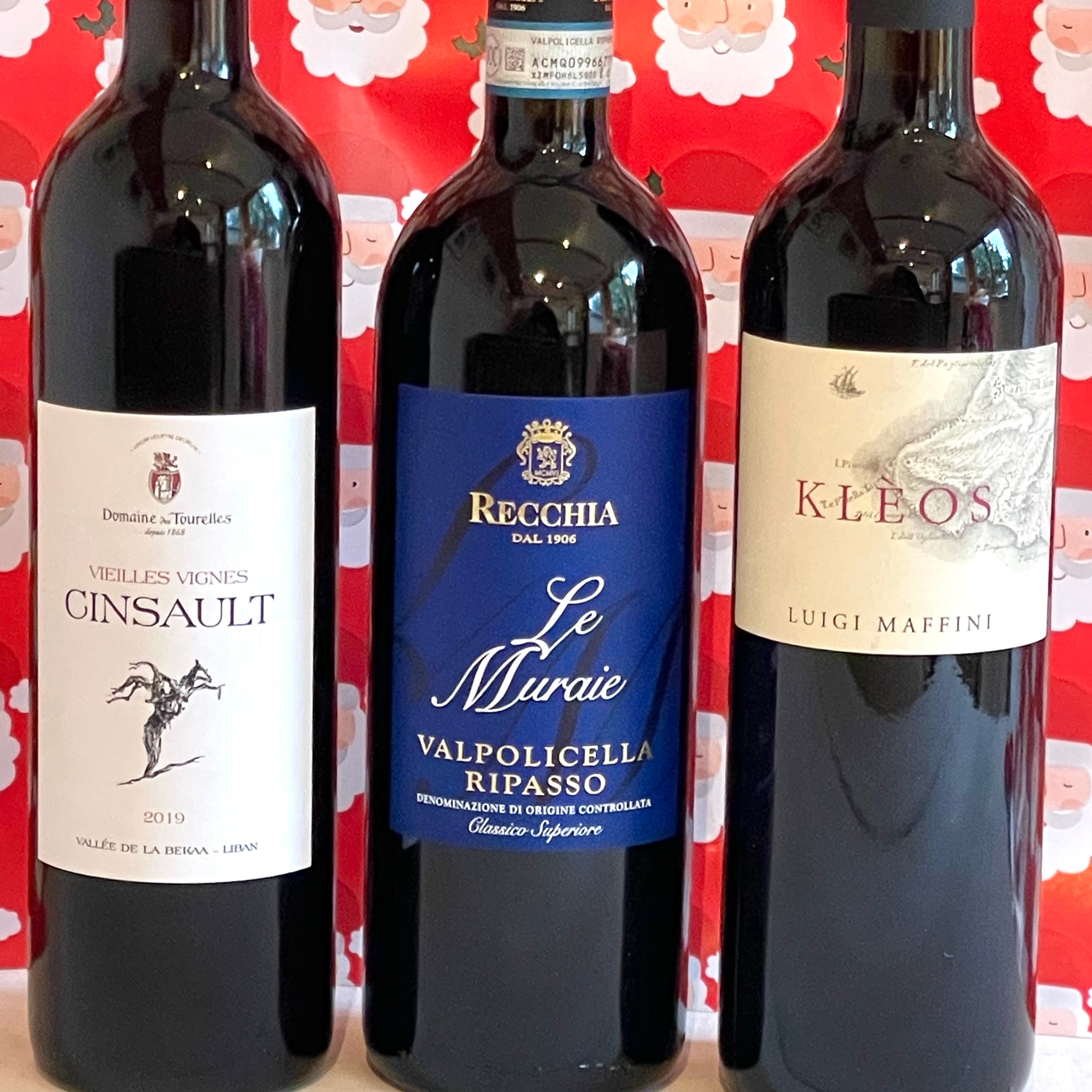 Description
🎁 🍷 Love red wine? This is the perfect Christmas treat for yourself or gift for your red wine loving loved ones. Three outstanding red wines delivered directly to the door.
Our limited-edition wine gifts are here, but they won't last long. We only have two boxes left of this ultimate gift for red-wine lovers, so get yours before they're gone! 🍷✨
Which Wines Are Included
Domaine de Tourelles Vieilles Vignes Cinsault 2019
This beautifully balanced wine has pronounced pure red fruit, dried strawberry, plum and raspberry. With its intense fruit, fine grained tannins, and high acidity this wine will age for another 3 to 5 years. Although we confess, we drink ours straight away.

Luigi Maffini Kleos 2019
Made from Aglianico, considered one of the three greatest Italian wine-grape varieties, this excellent organic wine has perfumed aromas, rich intense juicy fruit, lightly dried fruit, vanilla, tobacco, and a smooth mouthfeel, with sufficient tannins to make this a fantastic foodie wine. Made by Luigi Maffini, a family winery in the stunning Campania region on the beautiful Amalfi coast.

Recchia Le Muraie Valpolicella Ripasso 2018
Ripasso wines, like a baby Amarone but at a fraction of the price. Recchia's Ripasso is made in a deep and luxuriant style, intensely fruity, full-bodied with soft tannins. Ideal for the winter months, and to enjoy with the rich foods of the festive season.

Delivery
Shipping to Great Britain mainland only: £10 delivery charge.
Three very different rich red wines in one box. Two Italian red wines, from world renowned Valpolicella & the beautiful Amalfi coast, with a third wine from the high Bekka Valley in Lebanon. Valpolicella Ripasso is one of my favourite styles of wine for pairing with festive foods, with its rich fruity flavours you can't go wrong. Luigi Maffini Kleos, made from Aglianico, considered one of the three greatest Italian wine-grape varieties, this deliciously rich foodie Italian red wine is great for all occasions. Domaine des Tourelles have made their outstanding red wine using 100% Cinsault from high quality grapes grown on 50-year-old vines which give this wine its intense fruit flavours.